My FI and I wanted to incorporate traditions into our ceremony. Since he is Scottish, we have decided to do a handfasting during the ceremony.
Ever wondered where the term "Tie the Knot" came from? Handfasting!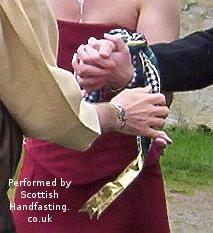 History of Handfasting:


The very word Handfasting derived its origin from the wedding custom of tying or hitching the bride and groom's hands or actually their wrists together, as a symbol to their clan, tribe or village of their decision to be bound together in family living. The traditional length of time was a year and a day, or 13 moon cycles. If the marriage proved to last over this period of time, then the vows would be renewed for a life time or they renewed them for "as long as love shall last".
My fiance and I will agree to a set of commitments and then our hands will be fasted with the Cunningham tartan.
We considered the idea of having him wear a kilt. Instead, he is going to buy a tux. It seems much more practical to buy a piece of formal wear that he can rewear.
Has anyone ever seen a Scottish handfasting ceremony? I have not but am excited to participate in the tradition.